"Some people say there are plenty of fish in the sea – until you find love – then there is only one."  – Sir David Baird
When Vanessa and Chris found each other, they each found their one fish in the sea. A couple of weeks ago, Beaufort Photography Co. was privileged to capture Vanessa and Chris' special day at the North Carolina Aquarium in Pine Knoll Shores. The fish of the sea provided the perfect backdrop for their celebration.
Though the Crystal Coast was blustery on this mid-March afternoon, inside the aquarium was warm and inviting. Family, friends…and lots of fish…set the stage for a night of unforgettable fun and frivolity.
One fish in the sea
Everybody has a fish story – a story about the "big one," about the one that broke the line, about the one that got away. And with each retelling of the story the fish gets larger, the water rougher, and the situation more perilous. But fortunately for Vanessa and Chris, neither got away. They both landed their one fish in the sea.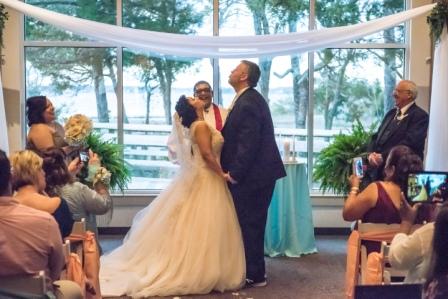 It takes a team
It was such a joy to work with Judy at Total Package Events, Kerri with the NC Aquarium at Pine Knoll Shores, Chuck with CK Entertainment, and Mike at Above It All Studios. These wedding vendors know how to host a celebration!
Total Package Events
NC Aquarium
CK Entertainment
Above It All Studios
Thank you, Vanessa and Chris, for allowing Beaufort Photography Co. to celebrate your special day with you. We hope your photos will bring a smile to your face every single time you look at them. Congratulations!
---
You might also like